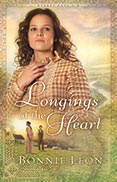 Will hidden secrets destroy the love they've built?
In the early 1800's, the wondrous land of Australia is full of possibilities as settlers stake their claims. Hannah and John settle their own piece of land in New South Wales and have hopes of starting a family, but their dreams for the future are clouded with trouble.
As they try unsuccessfully to have a baby, Hannah suffers from guilt over her past. What she hasn't told her husband about this chapter of her life haunts her and threatens to destroy their relationship.
MY REVIEW
This is another book i bought at a Christian Bookstore, and i read this for the read-a-thon as well. Bonnie Leon is an author i really like, and this novel was no different in that respect. i like to read about Australia, and Bonnie does a grand job of discribing life and land in the early 1800s. She uses words to vividly protray the landscape, and the reader is transported to an era when Australia was being populated by the British. It is a story of longing, of danger, but also of bright hope. The characters are well-rounded, and you feel like you are walking their path with them. i would give this a 4.5 out of a possible 5 stars, only because i will not likely read it a second time, but would recommend it highly to others.